Spiritual Adventure Pack #5
Hi.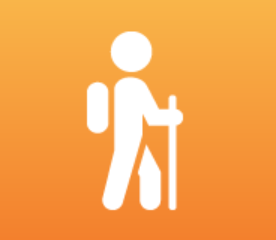 Today's email...what can we know about God?
I once read a book aptly titled, "Knowing God" by J.I. Packer. He brings up a good point.
The more complex an object, the tougher it is to say you really know it. To know a song, a book, a recipe is fairly easy.
Living things become more complicated. If you have a pet dog or cat, you can probably predict how it will likely behave at certain times. You know what it wants and what it is asking you to do.
Knowing a person is even more complicated. People will hide some of their thoughts or feelings. Therefore, how well you know someone largely depends on how much they are willing to reveal to you.
What about with God? How well can we possibly know God? It entirely depends upon what God chooses to reveal about himself. Doesn't it?
And, whether he will let us have a relationship with him. All of this is at his discretion.
Here's something quite astounding. God welcomes us to know him. To be fully accepted by God. To begin a relationship with him that lasts eternally.
And to enjoy intimate interaction with God, where we can be led by God, instructed by him, comforted by him, and strengthened by him.
After asking God to come into my life, I found myself reading the Bible, wanting to know more fully this God that I just *met*.
What surprised me most were so many statements about God's love.
Page after page, I kept seeing the sincerity of his love. Statements like this:
"My sheep hear my voice, and I know them, and they follow me. I give them eternal life, and they will never perish, and no one will snatch them out of my hand."
"Whoever has my commandments and keep them, he it is who loves me. And he who loves me will be loved by my Father, and I will love him and manifest myself to him."
"As the Father has loved me, so have I loved you. Abide in my love."
Is it really possible to know God's love like this?
Yes.
J.I. Packer goes on to say, "We do not make friends with God; God makes friends with us, bringing us to know him by making his love known to us."
That is exactly what I experienced...and continue to experience.
A few more quotes from Packer, because he says it so well:
"All my knowledge of him depends on his sustained initiative in knowing me. He knows me as a friend, one who loves me; and there is no moment when his eye is off me, or his attention distracted from me, and no moment, therefore, when his care falters."
Packer says this, because it is exactly what the Bible says is true of all those who have begun a relationship with God.
And best of all, we don't earn or have to qualify for that relationship. God offers it to us, which I'll explain in our series.
Wrapping up with Packer: "There is tremendous relief in knowing that his love to me is utterly realistic, based at every point on prior knowledge of the worst about me, so that no discovery now can disillusion him about me, in the way I am so often disillusioned about myself..."
This is grounded in what God has revealed about himself. From the Bible:
"Anyone who does not love does not know God, because God is love. In this the love of God was made manifest among us, that God sent his only Son into the world, so that we might live through him.
In this is love, not that we have loved God but that he loved us…"
Here is a one-page summary of what God has revealed about his personality, and what we can experience, once we've begun a relationship with him.
https://www.everystudent.com/wires/whatlike.html
Next email...like it or not, Jesus is central to experiencing a relationship with God. There are solid factual reasons to believe. You'll see what I mean.
Thank you again for staying with me in all of this.


Marilyn Adamson
director of EveryStudent.com
<<Previous | Next>> Spiritual Adventure Pack #6