Facing My Homosexuality
By James Parker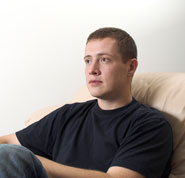 I can remember coming home one day after high school, as a freshman. When I walked in the door I said "hi" to Mom and was ready to grab some Doritos®. But I noticed something on the talk show she was watching. "Today! Meet gay people who always knew they were gay," barked the host.
While I chomped on my chips, I pretended like I wasn't interested in the topic. But I was.
For as long as I could remember I always liked looking at guys' bodies. Sure I had some girlfriends here and there and even liked messing around with them, but I much preferred shower time after gym class.
Am I gay?
As I watched the talk show, I couldn't believe the places my mind wandered. "Am I gay?" "I think maybe I've always been gay?" The struggle had begun.
Over the next eight years I wrestled with hundreds of questions regarding my sexuality. By the time I was in college I was looking at gay porn 4 to 5 times a week. I often thought back to when I was a 5-year-old boy, and my neighborhood buddy Brian and I used to have sex parties in our forts. I also thought about when I was in middle school and my friend Tyler came over for a sleepover, and I woke up with him touching me, and I liked it.
As I experimented with my sexuality in college, I also began to grapple with my spirituality. Yeah, yeah I know...my parents and the world had told me "homosexuality is a sin." Got the message. Heard it loud and clear. So I decided I would never, ever tell anyone the inside struggles I was going through. I would bottle them up, stuff them, and never let them out.
But the longer I was in college, the more the "bottle and stuff" method didn't work. I got lonelier, sadder and more depressed each day. I found friends becoming fewer and less meaningful, when all I wanted was someone to love me unconditionally.
Sexual crossroads
The worst night of my life came on Nov. 11, 2002. An old acquaintance named Mike invited me over to his house for a beer. One beer turned into seven, which turned into having sex with Mike and the next thing I knew I woke up at 2:34am hung over in a near-strangers bed. In that moment I felt filthy and guilty beyond words. It was if I was the dirtiest person alive. I wanted to die...and I even considered it.
I drove home, crawled into my dorm bed, locked the door and cried for the next 2 days straight. At the end of my rope, not knowing where to turn, I picked up the phone and dialed my old youth pastor, Todd. I don't know why I called Todd, but "at least" I thought, "he might listen."
So I recounted my whole life story to him. "Todd, I think I'm gay. Can I tell you what's been going on inside of me?" I took off the mask I wore for 21 years. After listening for about a half hour, there was a long pause. And then Todd spoke. "Here it comes," I thought. "He's going to tell me what a sinner I am. And he'd be right."
Todd cleared his voice and said, "Oh, James, I am so, so sorry." "What#!$#!?? Sorry for what?" Todd continued, "I am so, so sorry that for all these years you've had to go through this alone."
A new hope
He didn't judge me, he didn't condemn me, he just loved me. And that was all I ever really wanted. Todd told me, "I'm committing to being there for you over the long-haul. I want you to know that no matter what, you are loved and that I will always be there for you." And Todd meant it. I could tell that he meant it by the warmth in his voice. Before we hung up, Todd said to me, "James, I have one word that I think of for your life...hope." Hope? Are you kidding me?! Didn't he know my track record?
Todd and I talked every day for the next 2 weeks. He told me about love, forgiveness, truth and grace. I had heard much of it before growing up in church. But this time, spiritual things were different.
God wasn't a stale, old-man rocking chair God, but rather He was personal. He wasn't scared of my struggles. And He actually understood what I was going through. Todd showed me a verse in Matthew 4 that said, "And Jesus was tempted in every way." You mean to tell me that Jesus understands my temptation, and my hurt...even with homosexual stuff?
"Did it ever occur to you James, that God isn't surprised by the stuff you've done?" Todd asked. Todd continued, "The sin in your life is precisely why Jesus Christ came and died. You didn't think Christ died for every sin except homosexuality, did you?" Yeah I did. In fact, I had bottled and stuffed my whole life so much that I didn't even think God knew about my secret life. Maybe there was some hope for my life?
Todd presented a view of God that was quite different from my assumptions. Todd showed me in the Bible what God said about Himself, and frankly I had God all wrong. He wasn't a mean God that just wanted to reject me like the world did. But rather He was a gracious and compassionate God, slow to anger and abounding in love.1
Somewhere in the midst of those talks, I found myself drawn to Jesus. Instead of this harsh demanding God, He reveals himself clearly in the Bible as approachable. Actually, more than that. God was not passively neutral about me. Jesus desired a relationship with me, a homosexual. Jesus said, "Come to me all who are heavy laden, and I will give you rest. Take my yoke upon you and learn from me...and you will find rest for your soul."2 I realized that God wanted a relationship with me. I responded to Jesus, asked Him to forgive me of all my sins, and help me be the kind of person He wanted me to be.
Fireworks didn't go off when I prayed and invited Christ into my life, but He did make a real inner change. And over the next two years Jesus and I went on a journey of healing in my heart. Finally I wasn't alone. Hope.
God taught me about my identity, allowed me to feel clean inside for the first time, helped me to heal from the sexual abuse I suffered as a kid. God personally met my need for love, and then He gave me real friendships with the guys like I had always dreamed of, and He made me a whole new person. I could go on and on with the ways Jesus changed my life, but more than anything, I finally had a relationship with someone who would never leave me and would always love me unconditionally.
With God living in and through me, and with his help, I eventually made the choice to leave my homosexual lifestyle. But it didn't happen over night. I have now been married for 7 months, and my relationship with my wife is far, far more intimate then anything I ever experienced with a guy. I wouldn't trade what she and I have for the whole world.
I also have wonderful relationships with about 5 guy friends...and we have a total blast together!
Over the past years I've met many college guys who struggle with homosexuality. And I always tell them the same thing, "You don't have to clean up before you come to Jesus." If the world, your family, the church, politicians or anyone else rejects you, remember that Jesus was a pro at hanging out with the rejected when He was on earth. Hear His invitation to all: "Come to me, all who are tired and weary."
A real love relationship
Believe in Jesus. Receive Him, and you'll know a love relationship like you've always dreamed possible.
Some may be wondering "But why is God a reliable hope? Could He really give my life hope?" The answer the Bible offers is a resounding "absolutely." Here are some examples of how God affected three peoples' lives, described in the Bible.
Sarah: Here was a woman with no hope. She couldn't have kids, which was a mark of extreme shame in her culture. Her husband's family line would end and it was all her fault. It gets worse. Though God promised to give her a child, Sarah got impatient. Instead of waiting for God, she manipulated the situation and had her husband sleep with another woman, a servant of theirs, as a kind of "surrogate mother." To make matters worse, when God graciously came to her and again promised to give Sarah her own child, Sarah laughed at God. But in spite of all this, God delivered on His promise. He gave Sarah a child named Isaac, who turned out to be the ancestor of Jesus. God gives hope to the hopeless. (Sarah's story is told in Genesis 11-25)
David: Murderer! Adulterer! Coward! Betrayer! Liar! All of these labels were slung at David, and all of them were unapologetically accurate. David's life, even by modern day standards, looks worse than most soap operas. And yet God called David, "A man after my own heart." What gives? David simply came to God and said, "Have mercy on me God, according to your unfailing love; according to your great compassion blot out my transgressions. Wash away all my iniquity and cleanse me from my sin. My sin is always before me. Against you, you only have I sinned and done what is evil."3 And God responded by bringing hope to a hopeless life.
Paul: Held only one goal in life, to kill whoever did not follow his religious beliefs. He forced his way into peoples' homes to drag them to prison. Being in a position of authority, he resided over executions, watching as others stoned the accused to death. But Jesus delivered a message to Paul, and it turned his life in a whole new direction. Paul described his former life as having been among those who "were without God and without hope in this world." Paul goes on to say, "All of us also lived...at one time...gratifying the cravings of our sinful nature and following its desires and thoughts...But, because of his great love for us, God, who is rich in mercy, made us alive with Christ...in Christ Jesus you who once were far away have been brought near..."4
Like us, God has a track record. But unlike us, God's track record is amazingly consistent. We read the Bible cover to cover and come to a solid conclusion: God majors in bringing hope where there is none. And we will not be disappointed by our hope in God, because God's love has been poured out into the hearts of [those who believe in Jesus] through the Holy Spirit who was given to us.5
If you would like to know how you can begin a relationship with God, please see: Knowing God Personally.
Footnotes: (1) Jonah 4:2 (2) Matthew 11:28-30 (3) Psalms 51:1-4 (4) Ephesians 2:3-5, 13 (5) Romans 5:5