Starting with God
Congratulations on your decision to ask Jesus Christ into your life.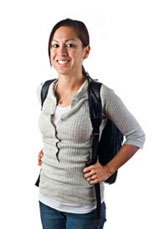 What now?
If this were a religion, you could expect someone to give you all sorts of Rules. Rituals. Requirements. And maybe a lot of stuff to buy!
But when you asked Jesus into your life, you did not join a religion.
Instead, you began a relationship. With God.
And that's pretty amazing.
You might be wondering what it will be like, to be in a relationship with God. What to expect? And most importantly, how does a person even begin to get to know God better?
I have some ideas for you. I am the director of Everystudent.com, and I'd like to help you grow in your relationship with God.
So I put together something called "The Spiritual Starter Kit." It's a free series of eleven emails that will come directly from me, Marilyn Adamson.
To get "The Spiritual Starter Kit," just fill out the form below.
Here's what you'll receive in "The Spiritual Starter Kit":
► How to be sure that Jesus Christ entered your life.
► What God did to draw you to himself.
► What's different about God's love and why that matters.
► Why your relationship with God is secured by him, not you.
► What it means to trust God.
► What if you sin? Does God still forgive you?
► How to find a church, other Christians, or a Christian group on your campus.
Each email letter will help you understand something very important about your friendship with God.
Just fill out the form below, and the first email will be in your mailbox in the next few minutes.
(On everystudent.com we don't sell anything, ever. We also never pass your information on to anyone else. And you can discontinue the email series with me any time.)
If you prefer to go through it on our app--EveryStudent--the app is also free. You'll find The Spiritual Starter Kit on it by clicking on the last section on the home screen, Starting with God. The Spiritual Starter Kit will be at the top of the next page, with a star by it.
Sincerely,

Marilyn Adamson
director of Everystudent.com
P.S. If you are not interested, please visit www.startingwithGod.com for helpful information. But I really hope you choose to receive "The Spiritual Starter Kit" because I think it will help you more.