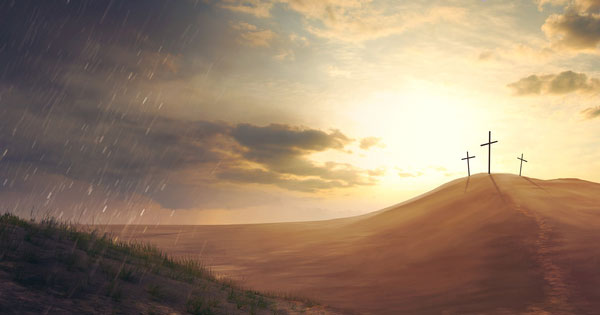 Why Did Jesus Die?
What was Jesus' death all about? Why did Jesus need to die for us?
The religious leaders were crucifying Jesus for blasphemy -- for claiming to be God. They put him to death for it. But, were they really in charge?
Many times, prior to his crucifixion, Jesus told his disciples that he was going to be crucified. He said he was doing this willingly…for forgiveness of their sins.
Prophets spoke about a Messiah, a Savior would would come. Isaiah wrote this of him: "…he was pierced for our transgressions; he was crushed for our iniquities [sins]…all we like sheep have gone astray; we have turned—every one—to his own way; and the Lord has laid on him the iniquity of us all."1
Each year the Jewish people would sacrifice a lamb as temporary payment for their sin.
When Jesus came, John the Baptist correctly said of him, "Behold, the Lamb of God, who takes away the sins of the world."2 Jesus took our sins and died for them, on our behalf. He took our punishment for us.
However, Jesus was not merely a prophet, a man who represented humanity. Jesus was very clear about his deity. He said he existed before the creation of the world, that he had power to forgive sins, answer prayer and grant eternal life.
Again, this is why the Jewish authorities crucified him…for claiming to be God.
Yet Jesus offered uncontested proof. Only weeks before his crucifixion, Jesus' friend Lazarus died. After being dead four days, Jesus publicly brought him back to life. In town after town, Jesus healed every disease, every sickness. Just prior to his crucifixion the religious authorities were saying, "Look, the world has gone after him,"3 and "If we let him go on like this, everyone will believe in him…"4 Jesus proved he had absolute power.
In light of that, the whipping, thorns in his head, nails through his wrists and feet did not kill him. Neither did the slow suffocation on the cross. Jesus could have stepped off the cross at any moment.
This was the equivalent of someone bending over and putting their head under water, and choosing to deliberately drown when they had the power to raise their head at any moment. Jesus chose to die.
He was very clear about this. Jesus said he was choosing to lay down his life. For us. Jesus said, "Greater love has no one than this, that someone lays down his life for his friends."5 But, why?
Because he looked at our hearts, our actions, and saw us as sick, needy, weak, sinful, blind and lost. This was Jesus' stated view of us, which we don't like. But you also need to see his actions about it. It's not distant judgment or condemnation. It's not uninvolved, nor unsympathetic. Whether you agree with him or not, he saw us as desperately in need. He saw our lives as not working properly. Not living in fullness or living out the goodness he created us for.
And, he saw us at risk of dying eternally separated from him. Never to experience eternal life. He saw us as cut off from him by our sin. And he chose to meet our need.
Whether we were thankful or not. Whether we saw a need for it, or not. He took the penalty of death, that he thinks we deserve, and took it himself. These are not the actions of someone uncaring.
Believing that we needed to be saved, needed to be forgiven, he went to incredible lengths for us. On the cross, Jesus didn't just suffer and die as a symbol of love. It was necessary, in his view. It was either we die--eternally separated from him because of our sin--or he dies, so we wouldn't have to. So we could be forgiven. So we could know him, eternally.
In describing this, the Bible says, "...perhaps for a good person one would dare even to die, but God shows his love toward us in this: while we were yet sinners, Christ died for us."6
Hours before his crucifixion, fully aware of his imminent crucifixion and resurrection, Jesus stated his intent as he talked to his Father: "that the world [may] know that you sent me and have loved them even as you have loved me."7
This brings up the stark question: did we need to be saved? What did Jesus see in us that we don't see? He chose to go to a cross, to be tortured, and die for us. Why was this necessary?
Maybe he sees where we fail. Our anger, hatred. Our impatience and hurtful remarks, and actions. We sin against others, and sometimes others sin against us. We don't live up to the goodness God created us for. We don't even live up to our own standards, let alone his. When honest, we even disgust ourselves at times. So what would a perfectly holy God see?
And what about our insistence that we don't want a relationship with him and we don't want him intruding in our lives?
Why didn't he just walk away from us? Why didn't he turn away?
Instead of deserting us, leaving us to the consequences of our sin-- instead, he came toward us. He entered into our world. He took the penalty of our sin and bore our death, himself.
"...because of his great love for us, God, who is rich in mercy, made us alive with Christ even when we were dead in transgressions - it is by grace you have been saved."8
Couldn't he have merely overlooked our sin, forgiven it with just a word? That seems possible to us, but he said our sin was too severe to merely dismiss it. The seriousness of our sin and his love for us required his action.
We all experience the pain that comes with forgiving someone. The greater a person's sin against us, the more painful to forgive that person. Jesus wants to forgive us in an eternally deep way. He wants us to be completely, fully forgiven. He wants us to know that he will fully accept us and our sin no longer needs to be a wall between us. "For the wages of sin is death, but the free gift of God is eternal life in Christ Jesus our Lord."9
He suffered and died over our sin, then rose from the dead three days later, overcoming it all. He is not hindered by sin or death. And he wants us to experience the same through him. It is our decision whether to accept the forgiveness he offers, by moving toward him, asking him to forgive us and enter our lives.
John states it well in the Bible, "We have come to know and to believe the love that God has for us. God is love, and whoever abides in love abides in God, and God abides in him. By this is love perfected with us, so that we may have confidence for the day of judgment."10
Jesus' prayer right before his death: "Righteous Father, though the world does not know you, I know you, and they [Jesus' followers] know that you have sent me. I have made you known to them, and will continue to make you known in order that the love you have for me may be in them and that I myself may be in them."11
Would you like to invite Jesus Christ into your life right now? Here is how you can.
"Jesus, I ask you to come into my life. Forgive my sin. Thank you for dying on the cross for me. Lead my life as you want. Thank you for coming into my life right now and giving me a relationship with you. Amen."
Footnotes: (1) Isaiah 53:5,6 (2) John 1:29 (3) John 12:19 (4) John 11:48 (5) John 15:13 (6) Romans 5:7,8 (7) John 17:23 (8) Ephesians 2:4,5 (9) Romans 6:23 (10) 1John 4:16,17 (11) John 17:25,26