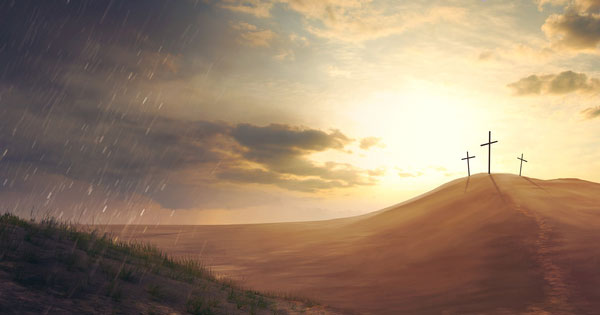 Why Did Jesus Die?
Here's what Jesus' death and resurrection, the crucifixion of Jesus, was all about…
The crucifixion of Jesus is a highly significant event for those who believe in Jesus. Here's what happened.
The religious leaders in Jerusalem arrested Jesus, charging him with blasphemy, claiming to be God.
They brought Jesus before the occupying Roman government for sentencing. Pilate, who had the final say, believed Jesus should be set free. But the crowds demanded that Jesus be put to death. "Crucify him! Crucify him!"
The verdict: death by crucifixion, the Roman government's method of torture and death.
None of this was a surprise to Jesus. Many times, prior to his crucifixion, Jesus told his disciples that he was going to be arrested, beaten, crucified. He also said that three days after being buried he would come back to life.
Jesus said he was laying down his life willingly, for the forgiveness of our sins.
However, the religious leaders were correct. Jesus was very clear about his deity.
Jesus said he existed before the creation of the world,1 that he had power to forgive sins,2 and answer prayer3 and grant eternal life.4
He said to know him was to know God.5 To see him was to see God.6 To believe in him was to believe in God.7 To receive him was to receive God.8 To hate him was to hate God.9 And to honor him was to honor God.10
Jesus offered convincing proof for these statements.
Before Jesus' Crucifixion
For example, only weeks before his crucifixion, a close friend of Jesus' named Lazarus died. Jesus was in another town at the time, but mutual friends sent word to him. By the time Jesus arrived, Lazarus had been buried for four days. Jesus brought him back to life. There were many witnesses, and news spread quickly.
In town after town, Jesus healed every disease, every sickness. He fed crowds of 4,000 people who came to hear him preach. Another time, 5,000 people.
The religious authorities complained, "Look, the world has gone after him,"11 "If we let him go on like this, everyone will believe in him…"12
Jesus' death on the cross was not merely the natural consequences of his miracles and his statements. He was not at their mercy.
Jesus had already proved he had absolute power. In light of that, the whipping, thorns in his head, nails through his wrists and feet did not kill him. Neither did the slow suffocation on the cross. Jesus could have stepped off the cross at any moment.
This was the equivalent of someone bending over and putting their head under water, and choosing to deliberately drown when they had the power to raise their head at any moment. Jesus chose to die.
Jesus said, "No one takes my life from me. I lay it down of my own choosing."13 He did so purposefully. It was planned. Intentional.
And here's why…
Why Did Jesus Die
To varying degrees, we act in ways that are opposed to God's ways. Just take a quick scan of the news on any given day…racism, murders, sexual abuse, lies, greed, corruption, terrorism, wars, etc. As people we have a great way of messing up our lives and the lives of others. God sees us as lost, blind and under his judgment for our ways.
Think how sickened and grieved we are to hear that an 6-year-old girl is kidnapped from her family for sexual abuse. It's such an affront to our moral senses, that even those who oppose the death penalty might be tempted.
Well, all of our sin is an affront to a holy God. All of our sin grieves him. We don't live up to our own standards, let alone his. When honest, we even disgust ourselves at times. So what would a perfectly holy God see?
God says that the penalty for sin is death.14 This is why, in the Old Testament you see God instructing the Israelites to sacrifice a lamb once a year for the forgiveness of their sins. The lamb died in their place. But that was a temporary forgiveness. They had to do this each year.
When Jesus came, the prophet John the Baptist said this about Jesus, "Behold, the lamb of God who takes away the sins of the world."15
Jesus came to take the penalty for humanity's sin, for our sin, in our place. Rather than us die and be permanently, eternally separated from God, Jesus paid for our sin on the cross, in order that we could be forever forgiven and have eternal life.
This is exactly why Jesus came, as our Savior, to save us from God's judgment, condemnation and payment of our sin. Any sin you have ever committed, or will do, Jesus was aware of while hanging on the cross. Jesus took the punishment for our sins for us.
DaVinci's Last Supper
You've seen the famous painting by Leonardo da Vinci of the "Last Supper" with Jesus sitting at a long table and the disciples sitting next to him on both sides of him. Da Vinci was depicting the dinner that Jesus had with his disciples the night before he was arrested and crucified.
At that "Last Supper" Jesus told his disciples that his blood would be "poured out for many for the forgiveness of sins."16
Jesus was beaten, whipped nearly to death with a metal or bone tipped "cat-o-nine-tails" torture device, then his wrists and feet nailed to a cross, then up righted, where he hung until death. A spear was thrust into his side to confirm his death.
Jesus, who knew no sin, paid for our sin on the cross. It's not fair. We didn't deserve for him to take our place. Why would he do it?
We're told, "God shows his love toward us in this: while we were yet sinners, Christ died for us."17
Our Response to the Crucifixion of Jesus
What does he ask of us? To earn our forgiveness? No. We could never be worthy of what Jesus did for us. What he asks of us is simple...to believe in him. He asks us to accept his death on our behalf, to accept his complete forgiveness as a free gift.
Oddly enough, many people don't want to do this. They want to try to earn their own salvation. Earn their own way into heaven. They want to show by their efforts that they are worthy of a relationship with God. ​Jesus said they will die in their sin and face judgment, because they reject what Jesus did for them.
The disciple Peter said of Jesus, "everyone who believes in him receives forgiveness of sins through his name."18
But not only forgiveness, also eternal life and a close, personal relationship with God now, in this life. It is all ours, because Jesus died on the cross for us.
Jesus was not merely taking punishment for our sin. He was eliminating the wall that stood between us and God. He was offering far more than forgiveness. He was offering reconciliation, full acceptance, a full relationship with him, so we could know his love for us.
​This is like a wealthy billionaire not only cancelling the debt a person owes him, but then turning over his entire estate to the person who couldn't pay him back.
Eternal life, heaven, is a free gift: "For the payment for sin is death, but the gift of God is eternal life in Christ Jesus our Lord."19
Jesus came into the world to die for us, to provide a way for us to know him intimately. It is our decision to receive the gift of a relationship with him that he is offering us.
Jesus summarized it this way, "I am the way, the truth, and the life; no one comes to the Father except through me."20
His Offer to Us
Anyone who will invite Jesus into their lives and accept his free gift of forgiveness and eternal life, begins a never-ending relationship with him.
After his crucifixion, they buried Jesus in a tomb and stationed a trained Roman guard of soldiers at his tomb. Why? Jesus had repeatedly said that three days after his burial, he would rise from the dead. It would prove everything he said about himself.
Three days later, the tomb was empty. Jesus then physically appeared to the disciples many times, to a crowd of 500, to individuals. Each of Jesus' disciples went throughout the world proclaiming Jesus' resurrection. Each one was martyred for it, in different locations from each other, so convinced of Jesus' identity.
It is our decision whether to accept the forgiveness he offers, by moving toward him, asking him to forgive us and enter our lives.
John states it well in the Bible, "We have come to know and to believe the love that God has for us. God is love, and whoever abides in love abides in God, and God abides in him. By this is love perfected with us, so that we may have confidence for the day of judgment."21
Jesus explicitly stated, "Truly, truly, I say to you, whoever hears my word and believes him who sent me has eternal life. He does not come into judgment, but has passed from death to life."22
Jesus' prayer right before his death: "Righteous Father, though the world does not know you, I know you, and they [Jesus' followers] know that you have sent me. I have made you known to them, and will continue to make you known in order that the love you have for me may be in them and that I myself may be in them."23
Would you like to invite Jesus Christ into your life right now? Here is how you can.
"Jesus, I ask you to come into my life. Forgive my sin. Thank you for dying on the cross for me. Lead my life as you want. Thank you for coming into my life right now and giving me a relationship with you. Amen."
If you just asked Jesus into your life, his crucifixion means you have accepted his gift, you are forgiven, and have an eternal relationship with him. See the link below to grow in your new relationship with God.
Footnotes: (1) John 17:24 (2) Matthew 9:6 (3) John 14:13,14 (4) John 5:24 (5) John 8:19 (6) John 12:45; 14:9 (7) John 12:44; 14:1 (8) Mark 9:37 (9) John 15:23 (10) John 5:23 (11) John 12:19 (12) John 11:48 (13) John 10:18 (14) Romans 6:23 (15) John 1:29 (16) Matthew 26:28 (17) Romans 5:8 (18) Acts 10:43 (19) Romans 6:23 (20) John 14:6 (21) 1John 4:16,17 (22) John 5:24 (23) John 17:25,26